Huntington Beach -
Open for Takeout!
Established in 1999  Opened in 1999 by Sergio Avila, the Huntington Beach restaurant sports a Baja Surf motif. It is always busy, located on the old Main Street in downtown "Surf City USA".
While growing up, the Avila boys used to hang-out in Huntington Beach after school to surf and they all still surf today. Daughters Maribel and Valerie now run the day-to-day operations of this very popular hang out!
Sign up here for the Avila's El Ranchito e-club and be the first to hear about specials and promotions.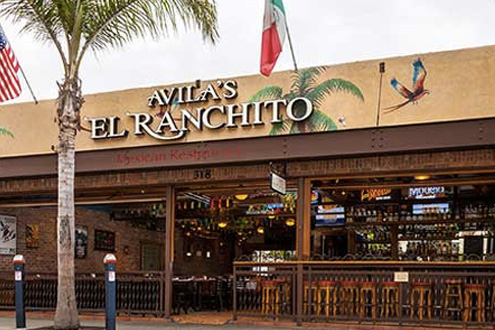 HOURS
Monday – Thursday: 12:00pm – 8:00pm
Friday: 12:00pm – 8:00pm
Saturday: 12:00pm – 8:00pm
Sunday: 12:00pm – 8:00pm
Happy Hour:
Mon-Wed-Fri: 3-6pm
$1, $3, $5 Food Menu
Drink Specials always great, always changing
Tuesday Surf City Street Fair
Selling $2.50 burritos and chingolingas from our booth outside!