Foothill Ranch - Open for Outdoor Dining, Takeout, & Delivery
Established in 2016  The Foothill Ranch location is the newest location opened by the Avila family. It all started in the kitchen in 1966 when Mamá Avila brought the delicious recipes from Guanajuato, Mexico that had been in her family for generations. Over the years, Avila's El Ranchito has grown to 13 locations in Los Angeles and Orange County. Each restaurant is under the personal care of a family member, guaranteeing the reputation the family has earned for treating our customers like part of the family.
The Foothill Ranch location owned by Sal Avila and run by daughters Monica and Natalie who are very involved in community events and local charities. Stop in to see us and enjoy the Avila family traditions and exciting new local specials!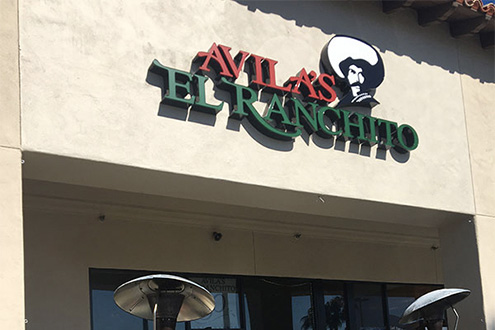 LOCATION
Address:
26771 Portola Pkwy
Foothill Ranch CA 92610
Phone: 949.452-1721
Email: elranchitolf@gmail.com
24-hour notice needed for Catering orders.
HOURS
Monday: 11:00am – 8:00pm
Tuesday: 11:00am – 8:00pm
Wednesday – Thursday: 11:00am – 8:00pm
Friday: 11:00am – 8:00pm
Saturday: 11:00am – 8:00pm
Sunday: 11:00am – 8:00pm